Is Valve building a consolized living room PC capable of powering wireless VR?
Evidence of a new AMD APU for Valve found in Linux drivers, hints in Steam drivers found by YouTuber SadlyItsBradley and dataminers on his Discord, and a mostly forgotten device spotted in Valve HQ suggest that could be the company's plan. For Valve, it could make far more sense than a fully standalone approach.
Thanks to SadlyItsBradley for pointing us toward the evidence he and others discovered.
Valve Is Definitely Building A Headset Of Some Sort
Valve has previously confirmed it is working on a new VR headset. In December 2021, well over a year after the launch of Index, Valve President Gabe Newell said the company was "making big investments in new headsets".
In October 2022, Valve posted a job listing for a computer vision engineer to help "prototype, ship, and support" a VR headset for "millions of customers world-wide", with inside-out tracking, camera passthrough, environment understanding, eye tracking, and hand tracking. Most recently, in December 2022 year Valve product designer Greg Coomer told a Korean gaming news magazine the company has been "working on a new VR headset lately", and that there are "several projects going on in-house".
But Will It Be Powered By A Consolized PC?
The Steam Deck handheld PC uses a custom AMD APU called Van Gogh - an APU being a single chip combining a CPU and GPU for power and cost efficiency, the same approach used by consoles like PlayStation and Xbox.
Steam Deck was codenamed "Jupiter" in development, and the Van Gogh APU was codenamed "Aerith".
Last week Linux news website Phoronix noticed a new Valve device codenamed "Galileo" with a new APU codenamed "Sephiroth" being added to the Linux sound drivers.
Back in February, dataminer Razzbow discovered a "Galileo EV2" in the Steam Deck firmware - EV2 standing for Engineering Validation, a stage after the design stages, before a product is made mass production ready.
The device was referenced as having a proximity sensor and a small circular touchscreen display, both components not present in Steam Deck that also wouldn't be expected in a refreshed model - and Valve recently said a true next generation Steam Deck is "years away".
YouTuber SadlyItsBradley and his team of dataminers on his Discord have been searching for and discovering evidence of Valve's future VR plans for two years now. The original findings suggested the headset would support a 'VRLink' wireless feature, similar to Quest's Air Link but where the PC creates a wireless hotspot instead of going through your local Wi-Fi network. That was the first hint that the headset could be paired with a companion console, since most desktop PCs don't have a wireless chip for this.
Lynch's team recently discovered a recently created Steam sub - a collection of games - created by Valve where the first title added was Half-Life: Alyx, along with many other VR games. On Friday Valve added even more games, still all VR. Valve created a similar sub when Index launched to showcase recommended games to press and testers. Many of these titles require the power of a PC, and simply could not run on a mobile headset chipset.
His team also found references to a "Share Screen" function, as well as the ability for the SteamOS device to update a headset's firmware remotely over the local network. All of these discoveries suggest a dual architecture with a consolized PC running SteamOS, not a fully standalone headset.
This living room console form factor PC may have been spotted almost four years ago - and the design and patent may hold a clue as to why Valve's firmware indicates Galileo has a circular touchscreen display.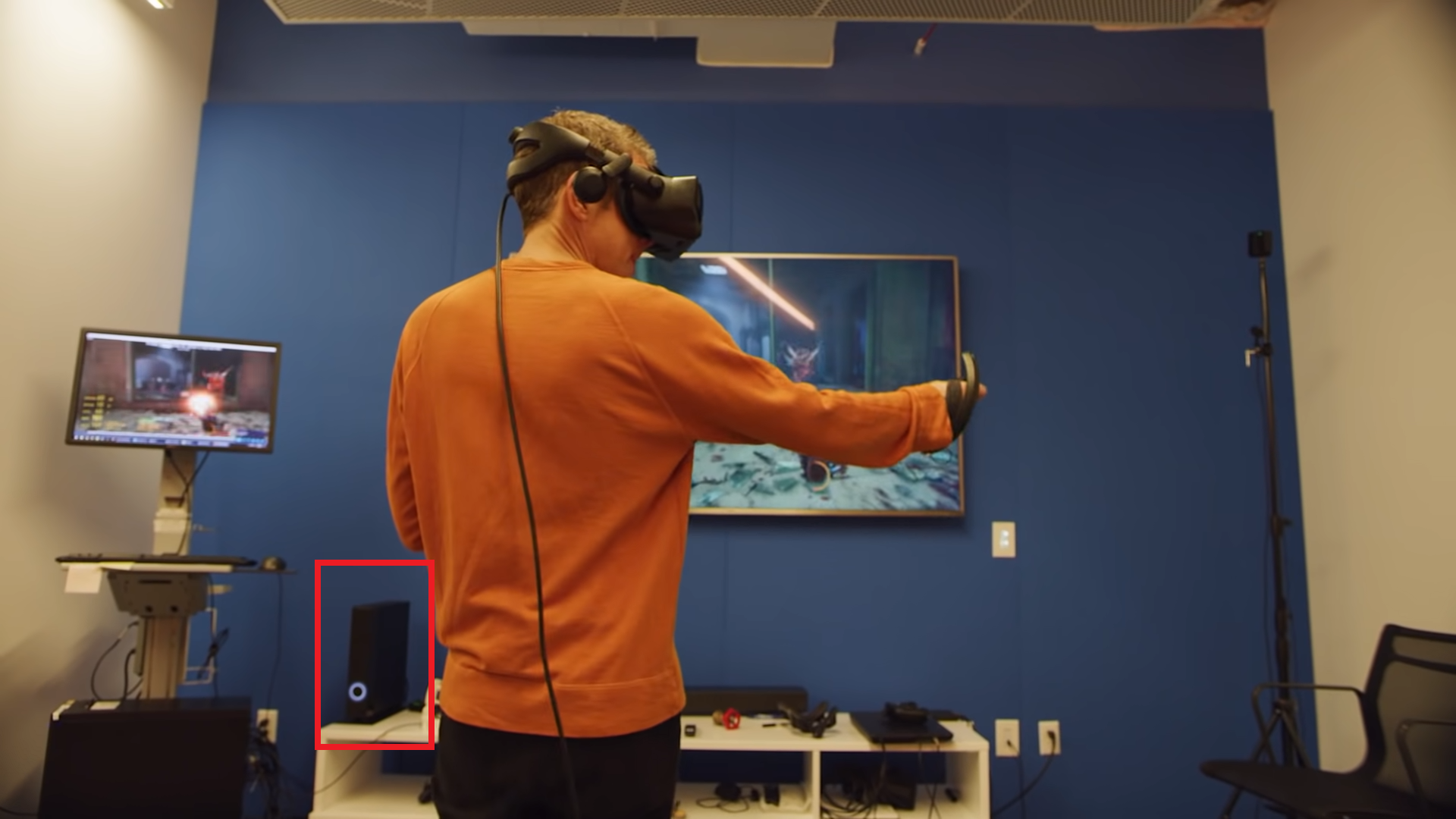 When Valve was demoing Half-Life: Alyx to press in late 2019, what appears to be a consolized PC was seen sitting beside the TV, in the demo room at Valve HQ. It can be seen clearly in Geoff Keighley's The Final Hours of Half-Life: Alyx -- Behind Closed Doors at Valve, for example.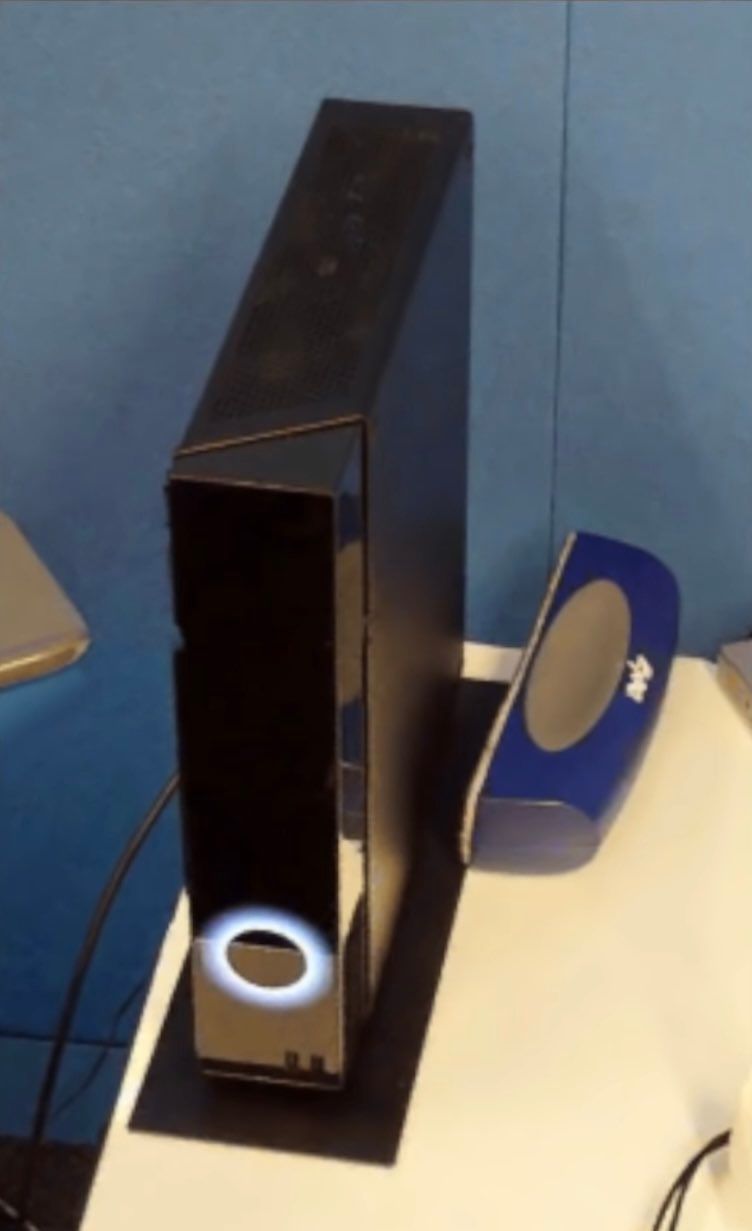 In this iteration of the device it's unclear whether the circular feature is just a lighted power button.
But in a Valve patent found by Lynch's team, a strikingly similar device is depicted, with a circular display that activated when the user came near via a proximity sensor - exactly what Galileo's firmware suggests.
It Would Make Perfect Sense For Valve
Driving a headset with a consolized PC would make much more sense for Valve than a Quest-style fully standalone headset.
Steam Deck can play almost all PC games because it has an 800p screen, meaning it has to drive less than half the number of pixels than for a 1080p monitor. But this trick can't work for VR - a standalone headset has no fundamental display resolution difference to a PC headset.
The vast existing VR content library on Steam is designed to run on a gaming PC, drawing hundreds of watts from a wall socket and cooled by multiple large fans. Battery powered mobile chipsets just can't come close to this level of performance. Even Qualcomm's upcoming next generation chipset going into Quest 3 should be only around a third as powerful as the GTX 1060 Valve lists as the absolute minimum for Half-Life: Alyx, for example. The gulf between a PC and a mobile chipset remains enormous.
For Valve to take the fully standalone approach would likely require making a separate SteamVR store for the headset, with games specifically ported as they are for Quest and Pico. Or at the very least, developers would have to create a new 'Ultra Low' quality setting.
But as well as being confusing, this would be contrary to Valve's entire ethos towards VR so far. Gabe Newell has repeatedly said that VR's constraint is the quality of the experience, not the price. Here's what Newell said in 2017, for example:
"If you took the existing VR systems and made them 80 percent cheaper, there's still not a huge market.

"We actually think that if anything, most of the interesting stuff is going to be happening on the high end. That we're actually resolution-constrained, we're CPU-constrained, we're GPU-constrained. That's where the interesting stuff is gonna happen, not on the low end of the market. Once you've got it, once you've got something and you can say okay, this is the thing that causes millions of people to be excited about it, then you start worrying about cost-reducing."
Weren't Steam Machines Already A Thing?
You'd be correct to point out that Valve already launched a range of consolized PCs running SteamOS in the past, branded Steam Machines.
But those were designed and sold by third party manufacturers, using mostly off-the-shelf PC parts. Those companies needed to make profit on the hardware, leading to higher prices than consoles without clear advantages.
But Valve owns the Steam platform, from which it makes the vast majority of its revenue. So as with Steam Deck, Valve can sell hardware near or even below what it costs to make - delivering hardware prices competitive with consoles.
Steam Machines also arrived years before Proton, Valve's compatibility layer that lets Windows games run on the Linux-based SteamOS. Enabling access the wealth of Windows-only games on Steam would dramatically change the value proposition.
However, There Is Contrary Evidence
Contrary to this web of evidence, there are comments from Gabe Newell that reference "tetherless integrated VR" and a "transportable" headset.
In February 2022 Newell told Edge Magazine that Steam Deck's portable approach was a stepping stone to VR:
"One of the things [Deck] represents is battery-capable, high-performance horsepower that eventually you could use in VR applications as well. You can take the PC and build something that is much more transportable. We're not really there yet, but this is a stepping stone."
Newell's specific reference of "battery-capable" and "transportable" seem to contradict the idea of a computing device plugged into a wall socket in your home.
Later that same month, Newell described the idea of a "tetherless integrated VR solution" to Eurogamer:
"You know, all of these things relate to each other, right? A lot of the technology that we might be using and future versions of that comes, you know, from technology that we have to develop for VR. And then if you flip it around and you look at that as like a highly performant mobile PC gaming device, you sort of say, well, why can't I have that in a tetherless integrated VR solution?"
These statements by Newell strongly suggest a fully standalone headset. Still, the mention of being "not really there yet" could suggest that's merely Valve's end goal, with the technology not actually being ready in the near term to deliver high fidelity VR.
Whatever It May Be, Valve Could Be Launching Soon
Last week a new Valve device passed through South Korea's Radio Research Agency, the government body responsible for certifying electronic devices with wireless capabilities. The listing doesn't reveal much, other than that it supports 5 GHz Wi-Fi, which makes it unlikely to be a controller.
The device has a model code of 1030. Valve Index has a code of 1007, and Steam Deck has a code of 1010.
It's possible this is just a Steam Deck Pro, Steam Deck OLED, or some other revision of Steam Deck. But given Index is now well over four years old and the release of Meta Quest 3 is imminent, could we be building to a Valve VR hardware reveal?